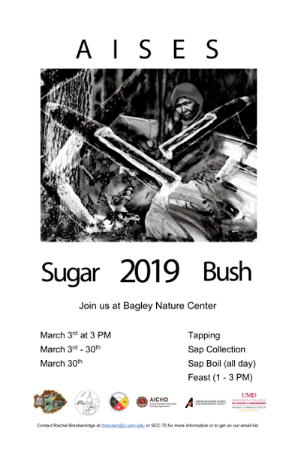 1854 had a BLAST working with UMD's American Indian Science and Engineering Society (AISES) students this past weekend at iskagamizigan! The AISES students held a great boil down and feast event on Saturday March 30th on campus at the Bagley Nature Area, where over 150 folks attended. Chi-miigwech to all the contributors:
Michael Dahmen for donating the artwork for the event flyer
Jim Rock for the sunrise ceremony
Jim Rock and Arnie Vaineo and the prayers in Dakota and Anishinaabemowin before the feast
The Center for Native American and Minority Health for contributing the fabulous feast, with traditional foods
Duluth Grill for providing the feast (and a delicious HOT stew for a cold day!)
Participants from Many Rivers Montessori, FDLTCC's Gidaa/NASA camp, AICHO's Gimaaji program, Myers-Wilkins Elementary, and the neighbors who stopped by to learn something new
The Cedar Creek Drum for sharing their songs
1854 staff for helping out on the tapping ceremony, and boil down day
All UMD students and advisors that worked together to hold this year's sugar bush in Bagley and share their heritage!
The endeavour had a great write-up in the UMD news!
See the event coverage on two TV new casts: