Tuesday June 15th, 2021, 12:00pm-1:00pm
Laurel Wilson, wetlands specialist for the Grand Portage Band of Lake Superior Chippewa, will give an overview of current waterfowl and herptile monitoring in the 1854 Ceded Territory. In 2020 the Grand Portage Band of Lake Superior Chippewa and partners began an effort to establish baseline data on waterfowl and herptile populations in wetlands of the 1854 Ceded Territory. The data collected in this project will inform resource managers and improve understanding of population fluctuations happening within changing environmental conditions. Laurel will present preliminary results of one year of data collection and analysis of the survey methods used.
Kyle Magyera, local government outreach specialist for the Wisconsin Wetlands Association, will share information about a unique partnership effort to adapt to the changing climate in northwest Wisconsin. This presentation will highlight reestablishment of the landscape's natural capacity to store and manage water in the Marengo River Watershed of Ashland County, Wisconsin. Kyle will discuss an interdisciplinary, community-driven partnership project developing integrated assessment protocols and strategies to facilitate restoration, reduce flood risks, protect infrastructure and build resilience.
This event is a product of Minnesota Sea Grant's Twin Ports Climate Conversations project and supports our Community Resilience Program.
REGISTRATION REQUIRED: REGISTER HERE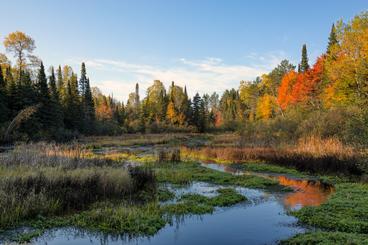 Image credit: Dave Hoefler. Unsplash.com