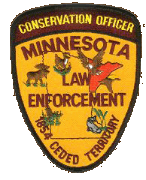 PRIMARY RESPONSIBILITY
The 1854 Treaty Authority Enforcement Division's primary responsibility is to enforce the Conservation Code of the 1854 Treaty Authority. The Conservation Code is the rule book that we use to implement the band members activities as they hunt, fish and gather off-reservation in the 1854 Treaty area. Contrary to popular misconception, exercise of treaty rights is not a free for all and all subsequent activities are regulated and monitored.
LICENSING REQUIREMENTS
1854 Treaty Authority Conservation Officers are all fully licensed Peace Officers and must adhere to the same rigid standards of all law enforcement officers. In addition to the basic requirements to become a Conservation Officer, 1854 Treaty Authority officers must continually maintain their P.O.S.T. status by regularly attending and satisfactorily completing various aspects of enforcement training each year.
JOINT POWERS AGREEMENT
The 1854 Treaty Authority and the State of Minnesota have an agreement which allows each authority to enforce the others game laws. This means that Conservation Officers of the State of Minnesota may enforce ceded territory code against Tribal members. If a ticket is issued, the particular individual appears in 1854 Treaty Authority Conservation Court. Similarly, Conservation Officers of the 1854 Treaty Authority may enforce State code against Minnesota licensed residents and non-residents. If a ticket is issued, the particular individual appears in State Court.
TRIBAL AND STATE COOPERATION
As both Tribal Conservation Offices and State Conservation Officers are working to protect the same resource, in some instances the officers work together. As there are few Conservation Officers in relation to the large area of jurisdiction, this convenient working relationship further enhances protection of our valuable natural resources.
OTHER DUTIES AS ASSIGNED
In addition to regular patrol and maintenance of the 1854 Treaty Area, our Conservation Officers take on other duties as assigned:
BIG GAME & FURBEARER REGISTRATION
Our Conservation Officers serve as license issuing and registration stations throughout the busy fall hunting season.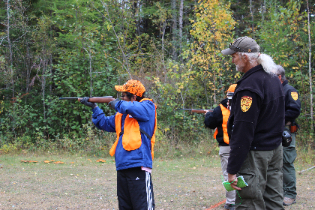 SAFETY INSTRUCTORS
Our Conservation Officers are certified firearm, ATV and snowmobile safety instructors.
PUBLIC OUTREACH
1854 Conservation Officers also participate in various public functions as a means to promote education regarding all aspects of the natural resources including classroom presentations, career days, fair booths, and other functions of these types.
Read the POSITION DESCRIPTION of an 1854 Treaty Authority Field Conservation Officer.