by Division Director, Darren Vogt
Although we continue to be busy with some field activities, winter is the time to summarize all our projects from the past season. All annual reports from our projects can be found on the 1854 Treaty Authority website, but here are some highlights from our time taking care of things in the woods and waters…
2018 Harvest Results
In 2018, 20 Ceded Territory moose permits were issued – ten to Bois Forte and ten to Grand Portage hunting parties. Eight total moose were registered in 2018: five taken by Grand Portage and three by Bois Forte. The total number of deer permits issued in 2018 (134) was the lowest ever. Deer hunter success was also low in 2018, with only 33 deer registered in the Ceded Territory. Five bear permits were issued, and zero bear harvested. Trapping harvest of furbearers continued to be low, with five trappers registering a total of 40 marten and 2 fisher. Further details on the 2018 harvest results can be found in the harvest report posted on our website!
Our primary responsibility of 1854's biologists is to manage and report on hunting and trapping seasons. In 2018, harvest in the 1854 Ceded Territory by Bois Forte and Grand Portage members included 33 deer and 8 moose. More information on these and other species can be found in the 2018 Big Game and Furbearer Harvest Report. Some of our other project work are summarized in the 2018 Small Mammal Survey Report, 2018 Monitoring of Moose Habitat Restoration Sites Report, and the 2018 Wolf Project Report.
We continue to be active on the water conducting a variety of fisheries surveys. Electrofishing assessments for walleye were completed in both spring and fall on inland lakes and is summarized in Spring Adult and Fall Juvenile Walleye Population Surveys. Our staff identified twelve (12) larval lake sturgeon in 2018 indicating natural reproduction occurring in the St. Louis River - read up in the 2018 Larval Sturgeon Drift Netting Summary. Trawling surveys were completed on the St. Louis River to track fish species diversity and abundance (2018 St. Louis River Estuary Bottom Trawling Survey Summary Report).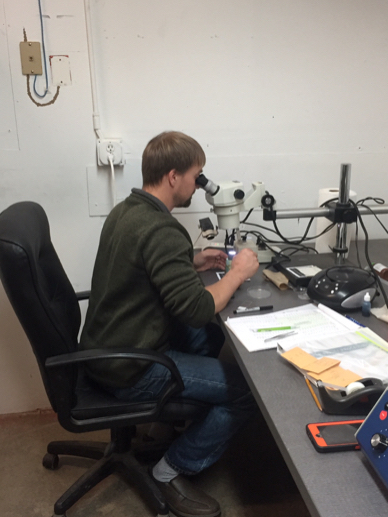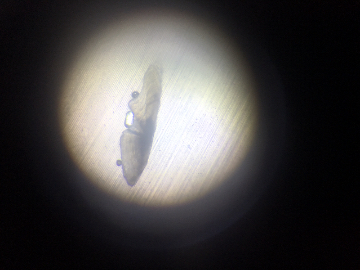 Environmental Biologist, Tyler Kaspar, assesses walleye and small mouth otoliths
Beginning in 1998, the 1854 Treaty Authority has tracked wild rice abundance on a group of lakes and rivers each year. Looking at the trend across time, the total abundance index (acreage and density) in 2018 was the lowest since the program began! If you want the skinny on the below average crop in 2018, read the full report: Wild Rice Monitoring and Abundance in the 1854 Ceded Territory (1998-2018). We also are involved with restoration efforts which is summarized in the St. Louis River Estuary Wild Rice Restoration Monitoring (2015-2018). It appears that impacts from geese and higher water levels continue to slow restoration success. Finally, we monitor wild rice growth and water quality issues downstream of a mining operation discussed in the Sandy Lake and Little Sandy Lake Monitoring (2010-2018).
Our energetic resource management team pitched into a handful of environmental projects this past field season. Unfortunately, an Eastern European ballast water hitchhiking zooplankton was identified in the Duluth/superior Harbor and the mouth of the St. Louis River by the U.S. Fish and Wildlife Service in 2017. Since the identification of Bloody Red Shrimp (Hemimysis anomola), 1854 has collaborated in population sampling surveys to monitor its status. Check out the results in Summary of Bloody Red Shrimp Sampling in the St. Louis River Estuary 2018. All other extensive invasive species work is highlighted in Invasive Species Summary Report 2018. Information from fish tissue analysis for mercury is included in the Analysis of Walleye and Smallmouth Bass Tissues for Mercury 2019 Technical Report. We continue to implement a variety of projects related to climate change; The 1854 Ceded Territory Climate Summary 2017-2018 summarizes phenological indicators over the past seasons.