MA'IINGAN (WOLF)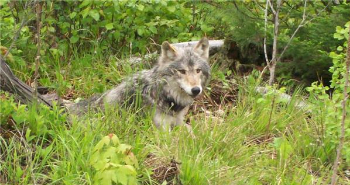 The gray wolf (Canis lupus) was officially listed as a federally endangered species in 1974 due to severe overharvest resulting from fur trapping, bounties, and livestock protection efforts. In 1978, wolves in Minnesota were reclassified as threatened, allowing state and federal authorities to manage for wolves praying on livestock. In the past three decades, Minnesota's keystone predator population has rebounded from an estimated low of 350 wolves to more than 3,000 wolves. Satisfying Federal recovery criteria the gray wolves in the Western Great Lakes region were officially removed from the Federal list of threatened and endangered species on March 12, 2007. At that point the management responsibility for Ma'iingan (wolf) returned to the States and Tribes. Since 2007 there have been a series of delisting and relisting events for the gray wolf but as of today they remain a Federally threatened species in Minnesota.
Previous wolf surveys conducted in Minnesota have revealed the adaptive ability of wolves to occupy diverse habitats. In April of 2007, 1854 Treaty Authority kicked off a three-year research project to assess wolf habitat use within the Duluth urban-rural interface. Wolves affixed with GPS collars provided data for territories and pack sizes. Read up on the successes of the initial 1854 wolf project in the final report.
*Wolf Monitoring to Kick-Off Summer of 2016*
In July 2015 the Bureau of Indian Affairs awarded 1854 Treaty Authority with funding to support a population monitoring project in the Ceded Territory. Again with the technology of GPS collaring at least 10 wolves will provide information on pack sizes and territories in the urban-rural interface near Duluth. Monitoring wolves in the Arrowhead will aid in improving the accuracy of the annual wolf population estimate in the ceded territory and statewide. Our goal is to see wolves remain a part of the landscape and be returned once again to Tribal and State management.