Invasive species are non-native plants, animals, and pathogens that establish in areas outside of their range or origin. These species can thrive in exotic environments and cause economic loss, environmental damage, and possible harm to human health. Due to the potential impact on traditionally harvested resources in the 1854 ceded territory, 1854 Treaty Authority established an aquatic and terrestrial invasive species program in 2009.
---
IDENTIFICATION
1854 Ceded Territory Aquatic Invasive Species
We work with other management agencies to monitor the establishment and curb the impacts of specific aquatic invasive species within lakes and rivers within the 1854 ceded territory. We have compiled a list of Infested Waters to help guide our constituents in taking extra caution while pursing activities on these waters that are known to contain aquatic invasive species. For a more in-depth review of all the invasive species on our radar, check out these supplemental Terrestrial Invasive Species Identification and Aquatic Invasive Species Identification guides.
Lake Superior Aquatic Invasive Species
The Ontario Federation of Anglers and Hunters has produced The Lake Superior Aquatic Invasive Species Guide that lists fish, invertebrate, and plant invasive species that are either established in or that threaten Lake Superior.
---
MONITORING AND RESEARCH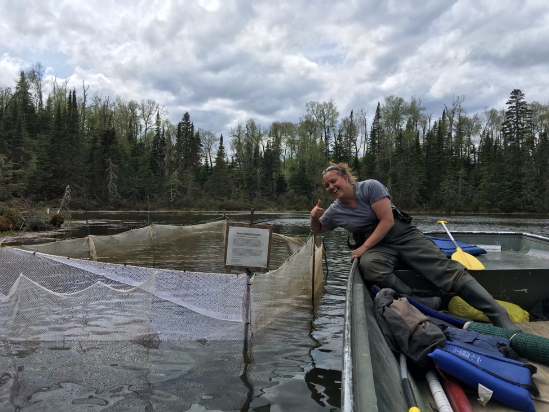 Our invasive species program puts a lot of emphasis on investigating the presence and impacts of invasive species. For instance, spiny waterflea (Bythotrephes longimanus) can impair waterways by eliminating edible zooplankton available to support fish species. Surveillance for spiny waterflea by way of sampling "tows" is a successful way to identify their presence. After the identification of spiny waterflea in Lake Vermilion in 2015, we established a goal to survey surrounding lakes, like Burntside Lake, due to their higher probability of spreading.

Since 2013 we have been researching how the invasive rusty crayfish (Orconectes rusticus) can affect aquatic vegetation. During the summer season "enclosures" and "exclosures" are set up on Dumbbell Lake to assess how rusty's might predate on manoomin. We are starting to see repetitive results that they can have a negative effect on the density and population of wild rice, although it may not be a preferred food source. Read the 2017 Technical Report on Potential Impacts of Rusty Crayfish on Wild Rice in the 1854 Ceded Territory.
---
CONTROL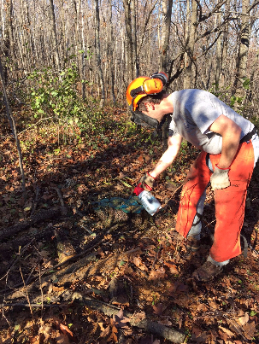 1854 Treaty Authority does not own any land within the ceded territory, however maintaining habitat is very important to sustaining culturally significant species on the landscape. Therefore, partnerships are the key to combating terrestrial invasive species.
We have a successful partnership with the City of Duluth in controlling invasive species at Hawk Ridge Observatory and the Lake Superior Zoo. Habitat improvement in Duluth's public lands by way of common buckthorn removal has been a HUGE success, made possible by the collaboration from multiple employees and the support of extensive volunteer networks.
We assist the Minnesota DNR in a variety of terrestrial invasive species control projects throughout the ceded territory, including Moose Mountain Scientific and Natural Area (SNA), Minnesota Point Pine Forest SNA, St. Louis/Red River Stream Bank Protection Area, Fond du Lac State Forest, Blackhoof Wildlife Management Area, and the St. Louis River Ruffed Grouse Management Area.
1854's invasive species work extends to our federal lands as well. We partner with the U.S. Forest Service to treat terrestrial invasive species found in the Superior National Forest such as: common tansy, spotted knapweed, Canada thistle, bull thistle, common St. Johnswort, garden lupine, and crown vetch.
---
AWARENESS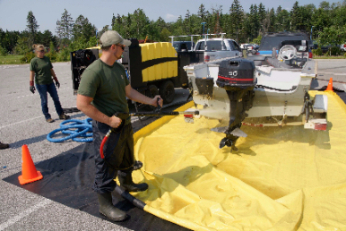 Public awareness and action are essential to preventing the spread of invasive species. That is why 1854 Treaty Authority has emphasized public outreach, providing invasive species information, lessons and services at public events, in schools, and at high traffic locations.
Boat Inspection and Decontamination
In order to assist with preventing the spread of aquatic invasive species, the 1854 Treaty Authority provides outreach to raise awareness and hopefully curb citations for transporting any invasive species. Invasive Species Technicians staff public boat accesses to offer voluntary boat inspections, and if necessary decontamination. Our decontamination unit is a high pressure, heated water sprayer.
Stop Aquatic Hitchhikers
Many aquatic invasive species (AIS) were unintentionally released, arriving in ballast water and through a variety of other human activities. Free from predators and competitors from their native place of origin, AIS can out-compete native species with their typically high rates of reproduction, survival, and spread. Eradication can be costly and in most cases not effective or even possible, therefore prevention is the most cost-effective way at protecting our native landscapes. The 1854 Treaty Authority has joined the "Stop Aquatic Hitchhikers" campaign to help prevent the spread of invasive species within the 1854 Ceded Territory.
Play Clean Go
1854 assists on the partnership of various Minnesota agencies, and provides outreach on the Play Clean Go message at various outreach events. Invasive species can hitch a ride anytime you are outdoors!
Stewardship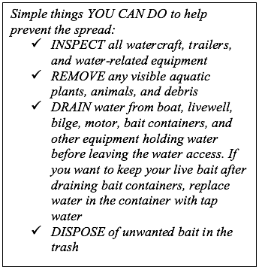 Are there invasive species on your private property? For those individuals that are moved to be active stewards for their time on turtle island, you can maintain the balance in your own backyard. 1854 has some great resources for landowners, which include options for that fit your values, infestation and pocketbook:
What YOU Can Do: Buckthorn Brochure
Identifying Invasive Buckthorn & Honeysuckle, and their Native Plant Look-a-likes (NE Minnesota)