November 13-15*, 2023 | Black Bear Resort, Fond du Lac • Carlton, MN
For more, visit: z.umn.edu/ManoominPsin23
FREE Registration to Indigenous & Tribal Attendees
Reduced Fee for Students
Lodging Scholarships Available
Call for Artists & Research Posters
*Optional programming on November 15
Join tribal agency leaders and tribal & Indigenous community members, students, researchers, colleagues from NGOs/non-profits, federal and state agency representatives, and others from across the Western Great Lakes for two-plus days to share knowledge and build relationships with Manoomin·Psiŋ·wild rice.
Build relationships through intercultural and intergenerational knowledge sharing with tribal & Indigenous community members and agency leaders; listen and learn alongside students, researchers, and representatives from government and non-governmental organizations.
Learn and reflect on changes in Manoomin·Psiŋ·wild rice stewardship and collaborative research over the past two decades by attending presentations from Indigenous & tribal leaders, scientists, and policymakers.
Listen to harvesters through panels that highlight both the practical and deeply spiritual experience of gathering and processing Manoomin·Psiŋ·wild rice.
Honor Manoomin·Psiŋ·wild rice with other attendees in ceremonies and during an evening feast on November 13.
Connect with Wild Rice Chiefs and other tribal elders as they share stories, knowledge, and calls to action during a plenary panel and talking circle.
Tour Fond du Lac sites working towards sustainable, resilient food systems—including the Fond du Lac Food Sovereignty Program and Spirit Lake Native Farm—as optional site visits on November 15.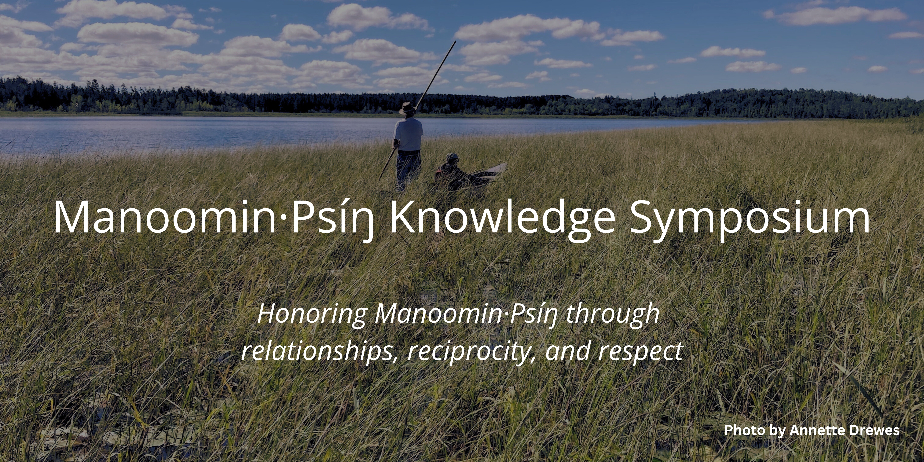 Funding for the Symposium is provided by:
Fond du Lac Band of Lake Superior Chippewa • National Oceanic and Atmospheric Administration (NOAA) • 1854 Treaty Authority Minnesota • Environment and Natural Resources Trust Fund • Minnesota DNR • Wisconsin DNR • National Science Foundation (NSF) • Science Museum of Minnesota • Conservation Paleobiology Network • St. Croix Watershed Research Station • Amiable Consulting • The Nature Conservancy • University of Minnesota Office of Native American Affairs • University of Minnesota Center for Changing Landscapes